Being proactive and paying back to local communities are our key values
We are a unique company, our goal is to help the community we live and work in, through any means we can.
---
Community Service
We have always believed Starbucks can—and should—have a positive impact on the communities we serve. Community service reflects our mission and values, who we are as a company and one of the single biggest ways we individually and collectively come together to help fill a need in the communities where Starbucks operates.
We launched Global Month of Service in April 2011 to honor our 40th anniversary with a monthlong dedication to service, and in April 2016 alone, more than 50,000 partners served together in their local communities. Starting in 2017, we are launching our year-round commitment and are excited to announce our new community service goal: 100 percent of Starbucks® stores across the globe will annually participate in service by 2020. We aspire to have every participating store around the world engaged in community service by encouraging partners to lead and take part in projects that link to our global social-impact efforts in sustainability, hunger, youth, veterans and refugees.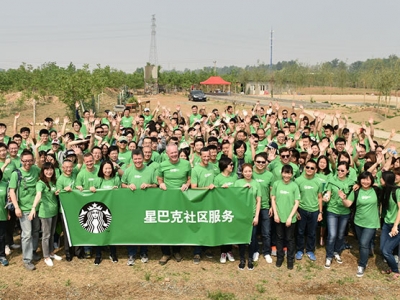 The Starbucks Foundation
The Starbucks Foundation supports communities around the globe in areas aligned with its social-impact priorities:
Opportunity for Youth
In 2016, 63 partnerships in 10 countries directly supported more than 20,000 young people in developing job and leadership skills and connecting them to employment.
Supporting Coffee, Tea and Cocoa Communities
Our commitment to communities extends beyond our stores to include the regions that supply our coffee, tea and cocoa. The Foundation invests in programs designed to strengthen local economic and social development. We work collaboratively with non-governmental organizations that have experience and expertise in working with farming communities in the countries where coffee and other agricultural products are raised. Projects include improving access to education and agricultural training, microfinance and microcredit services, improving biodiversity conservation, and increasing levels of health, nutrition and water sanitation.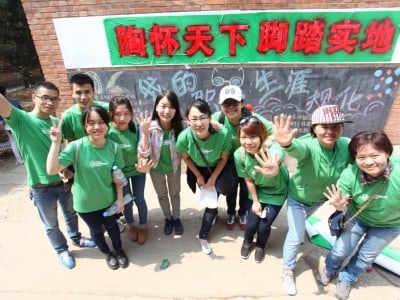 Giving Back Through Service
Starbucks partners have a long history of giving back to their communities through community service. For more than nine years, partners in Beijing have supported Cinema for the Blind, a charitable project aimed at helping the blind better enjoy both local and foreign films, by having volunteers narrate the onscreen details.
As a Starbucks partner who lives and breathes the Starbucks mission and values, Zheng Tao, an 11-year partner, is not only an accomplished Coffee Master in the Starbucks North China region, he also has always felt compelled to extend a helping hand to the underprivileged around him. He has been volunteering with the project for six years to effectively narrate and share more than 40 movies and contributing more than 9,000 hours.
"When my supervisor told me about Starbucks involvement supporting the Cinema for the Blind project in Beijing, I jumped immediately at the opportunity," recalled Tao. "It was amazing to be able to be the eyes for the blind, and to help them enjoy a movie as I do."
In September 2016, Zheng Tao was honored, among some of China's most influential business leaders, entrepreneurs and technologists, as one of China's top 50 innovators for his contributions and commitment to Cinema for the Blind in Beijing. This annual award, organized by China's leading business publication, CBN Weekly, is today one of the most important ranking for Chinese leaders in business, brand, technology and design, and aims to recognize, encourage and celebrate their innovation-led pursuits and aspirations.