AD

Whether you're at home or in the office, don't you wish you could enjoy fresh Starbucks coffee at any time? Now, with Starbucks Origami™ Portable Drip Coffee, you can!
With just 3 simple steps, you can have a cup of high quality Starbucks coffee in 2 minutes.
What is Starbucks Origami™?
Origami™ is a word of Japanese origin. This product was developed by the Starbucks Japan R&D team, and the packaging design was inspired by the Japanese craft of origami. So the name "Origami" is a tribute to the source of this product. By using Origami™, you can brew your own fresh coffee by simply pouring hot water. Simple, but full-flavored.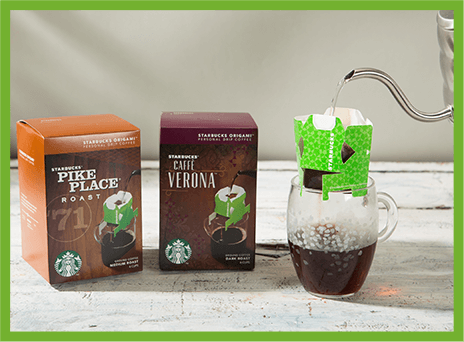 Enjoy a high quality Starbucks coffee experience
Starbucks Origami™ Portable Drip Coffee uses high quality Starbucks Arabica coffee beans. Each bag of coffee is roasted and ground in accordance with professional standards, bringing you a freshly brewed cup of delicious Starbucks coffee.
This time, we have launched
two different coffee roasts
for you to choose.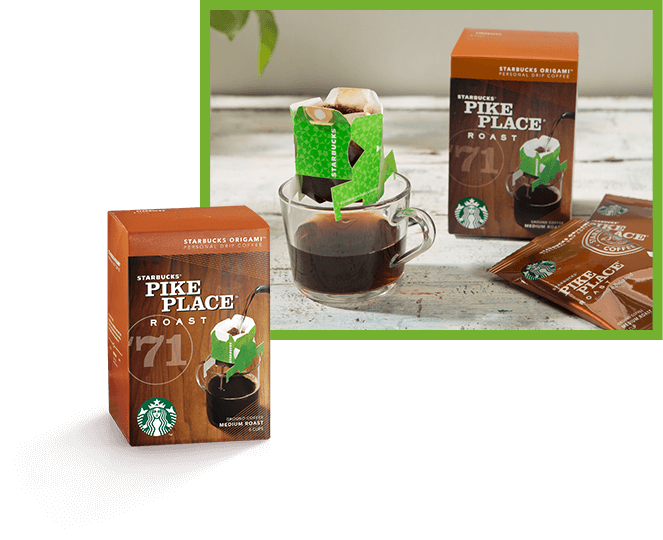 Starbucks Origami™ Portable Drip Coffee
Pike Place Roast
If you like a smooth, silky taste with a moderate coffee taste, select Starbucks Pike Place® Roast coffee. With its delicate flavors of cocoa and roasted nuts, it'll kick start your day.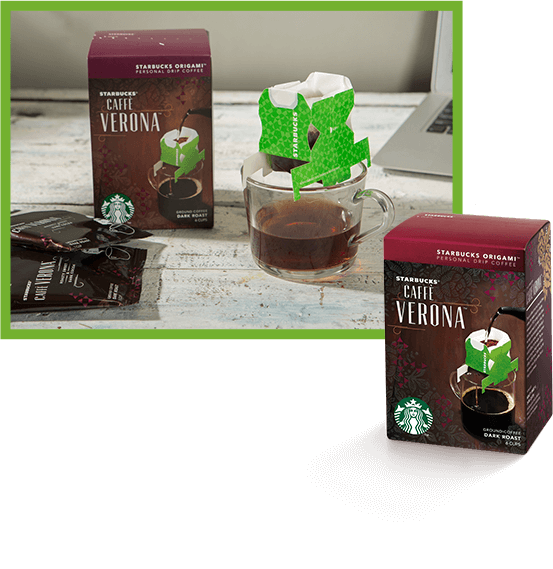 Origami™ Portable Drip Coffee
Starbucks Caffe Verona
If you enjoy the rich, bold taste of coffee, choose our deep, flavorsome Caffe Verona roast. With the thick, sweet taste of Italian roasted coffee, it's an indulgent experience.
How to make
delicious coffee with Starbucks Origami™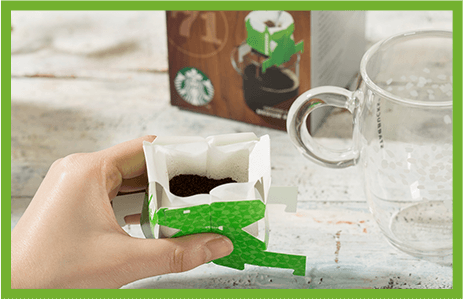 From the middle of the white label, gently tear the filter bag and press open the sides.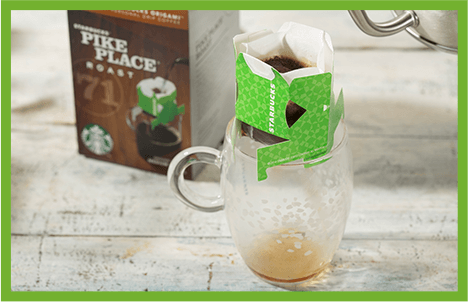 With the filter bag placed in a cup, pour approximately 140ml of hot water onto the grounds, allowing it to steep for 20-30 seconds.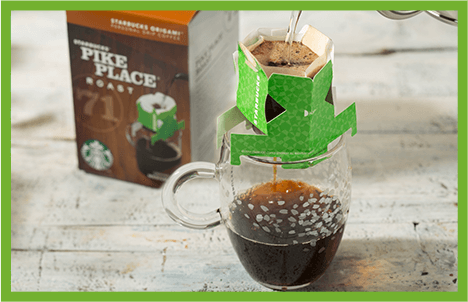 The hot coffee will drip slowly into the cup. Wait for Starbucks Origami™ to stop dripping and enjoy with friends!