Starbucks is ranked Top 2 Most Attractive Employer in retail category in China
SHANGHAI, June 6th 2015 – In an awards presentation ceremony held on May 31st by Universum to announce 2016 China's Most Attractive Employers rankings, Starbucks was recognized as the 2nd most attractive employer to work for in Retail industry in the country.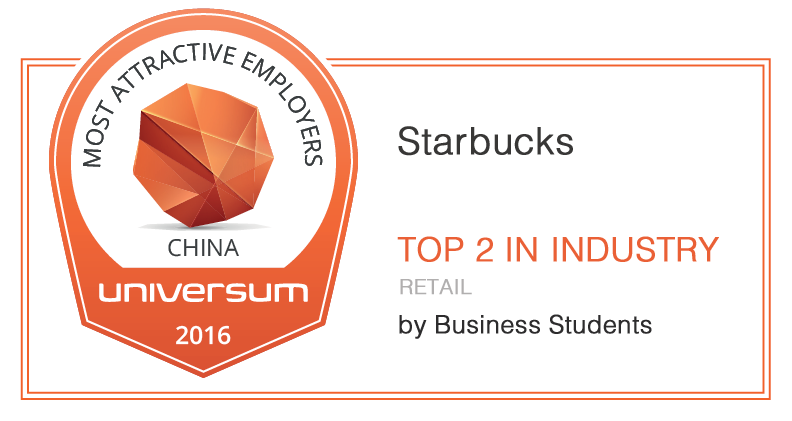 This accolade was bestowed by university students majoring in Business in the country, who also chose Starbucks as their overall 41st Most Attractive Employer to work for, an increase of 3 positions from last year.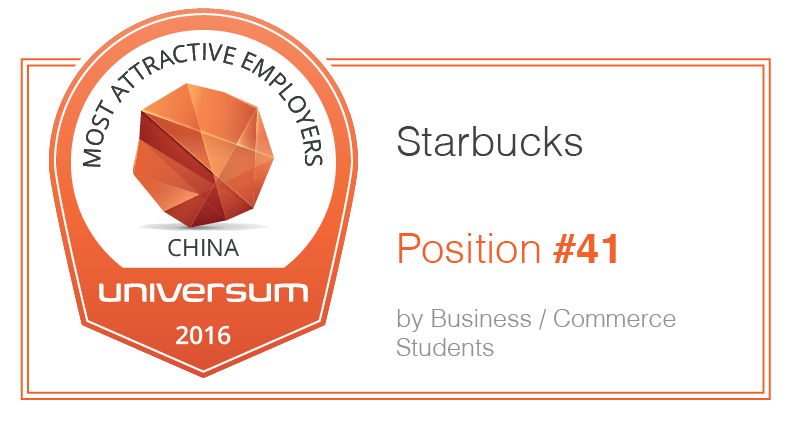 The company is also highly considered by Humanities/Liberal Arts/Education students as an attractive employer to work for at 13th place. The results were determined by an annual survey held in China since 2006, which saw participation from over 55,000 university students from 110 top universities across the country this year.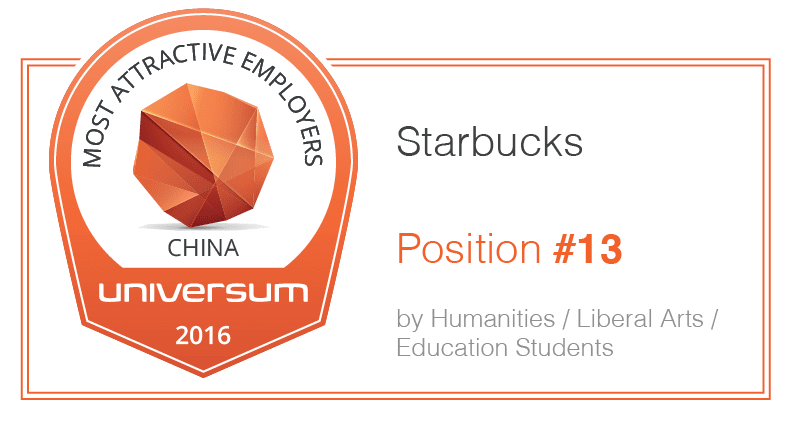 The survey also revealed that future talent in China highly associated Starbucks with "A friendly work environment", "Customer focus" and "Attractive/exciting products and services".
Held on 31st May 2016 at Andaz Xintiandi Hotel Shanghai, the 2016 China's Most Attractive Employers awards ceremony was attended by 200 guests, mostly HR and Employer Branding practitioners from 110 companies, and media representatives. The student survey, which took place between October 2015 and Mar 2016, was organized by 21st Century English Newspaper and facilitated by Universum.
---
About Starbucks
Since 1971, Starbucks Coffee Company has been committed to ethically sourcing and roasting high-quality arabica coffee. Today, with more than 23,000 stores around the globe, Starbucks is the premier roaster and retailer of specialty coffee in the world. Through our unwavering commitment to excellence and our guiding principles, we bring the unique Starbucks Experience to life for every customer through every cup. To share in the experience, please visit our stores or online at news.starbucks.com and starbucks.com.