Starbucks Opens Flagship Store at Disneytown in China
First flagship store within a Disney Resort in Asia, is expected to serve thousands of guests daily; design inspired by the craft of coffee and magic of Disney, bringing to life the Starbucks "Third Place" experience for customers.
SEATTLE and SHANGHAI; 07 June, 2016 Starbucks Coffee Company (NASDAQ: SBUX) today reiterated its commitment to elevating the customer experience in China by announcing the opening of its first flagship store within a Disney Resort in Asia. Located in the new Disneytown at Shanghai Disney Resort, the Starbucks Disneytown flagship store will open on June 8 and be a destination for families and friends looking to relax and recharge with their favorite handcrafted Starbucks® beverage.
Designed to be a respite in the customer's day, the store and the nearly 110 partners (employees) working there, will bring to life the craft of coffee in an immersive environment which will include new menu ordering options through a variety of mobile devices. With the addition of this latest flagship store in Shanghai, China will be the only market in Starbucks China and Asia Pacific region to pioneer and operate four distinct flagship stores.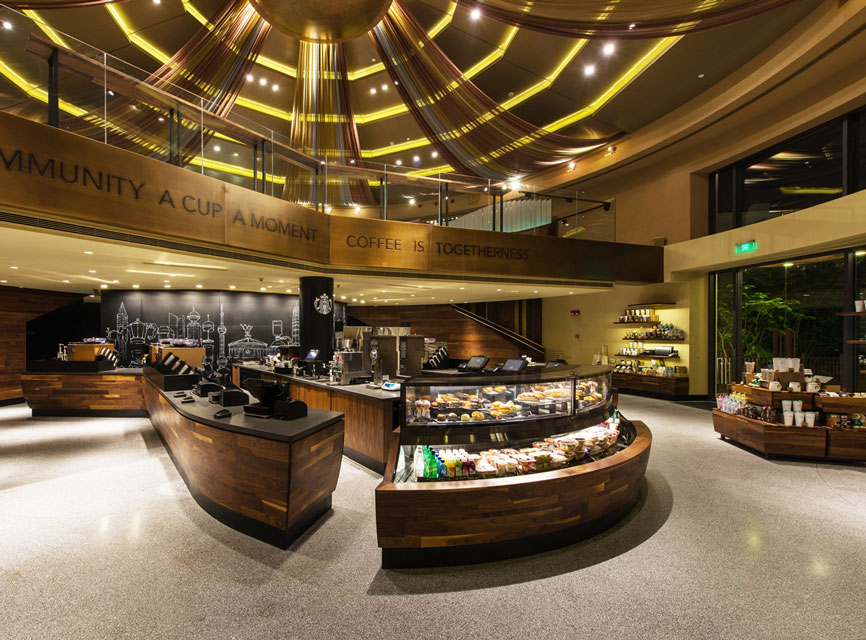 "China today represents the most significant and exciting opportunity ahead for Starbucks and our aspiration is to delight our customers and partners throughout China with an extraordinary store experience. We expect the Starbucks Disneytown flagship store to be one of our busiest stores globally, serving and bringing the unique Starbucks Experience to thousands of customers daily," said John Culver, group president, Starbucks China and Asia Pacific.
"We're honored Shanghai Disney Resort has chosen Starbucks to greet its guests so prominently at its newest resort destination and we look forward to welcoming customers at our Starbucks Disneytown store when it opens. This store builds on our ongoing commitment to the China market, following the announcement of our plans to open a Starbucks Roastery and Reserve® Tasting Room in Shanghai late next year."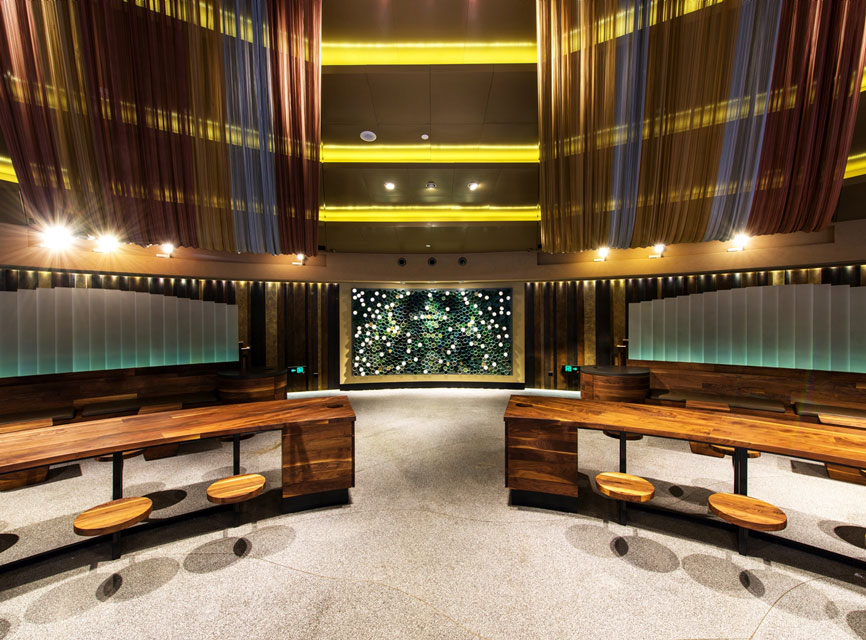 Creating a First of its Kind Experience
The first and second floors of the store will be joined by gently terraced stairs, and the copper wall panels celebrate the different degrees of coffee roasting highlighting the proud coffees in Starbucks portfolio. Hanging from the ceiling is a delicately constructed piece of artwork designed from gold and white metal wiring inspired by latte art crafted by barista's, while a mural of the Starbucks siren is made out of Starbucks cups. A centerpiece, this mural includes intricately designed silhouette scenes inside a handful of cups designed by local artists representing China's cultural heritage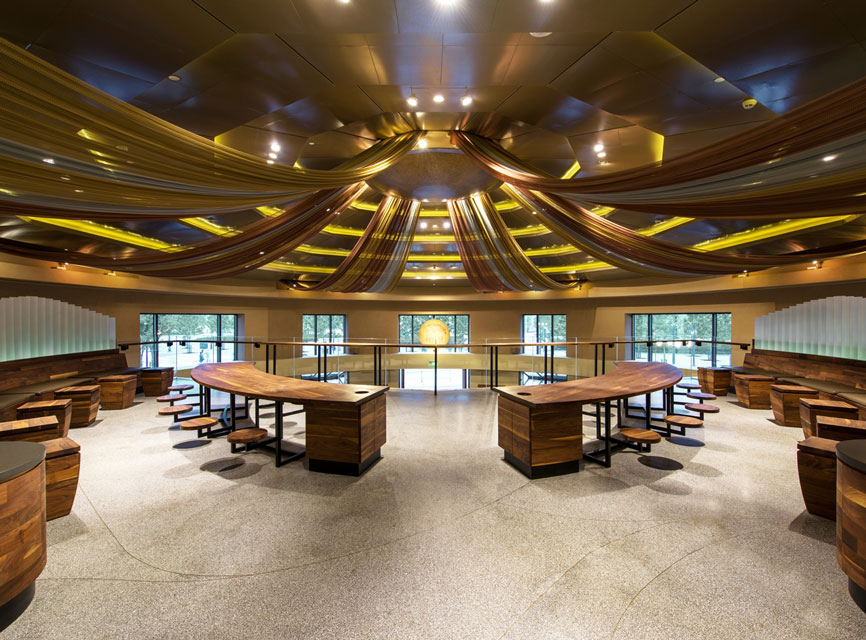 Creating Convenience through Technology
This new Shanghai location is the twelfth Starbucks store joining the highly successful portfolio of stores as part of a Disney resort, serving customers around the world. Starbucks opened its first location at a Disney resort in 2009 in Disney Village at Disneyland Paris and in 2014, opened two company operated stores – Downtown Disney in Anaheim, Calif. and Downtown Disney West Side at Walt Disney World, Resort in Orlando – both serving the company's line of rare, limited availability Starbucks Reserve® coffees.
In addition, the company also has worked with Disney to offer Starbucks® signature beverages and pastries at locations inside the theme parks including Disneyland Resort's Fiddler, Fifer and Practical Café at Disney California Adventure park and Market House at Disneyland park; as well as two locations at Walt Disney World Resort in Florida – Main Street Bakery at Magic Kingdom park and Fountain View at Epcot.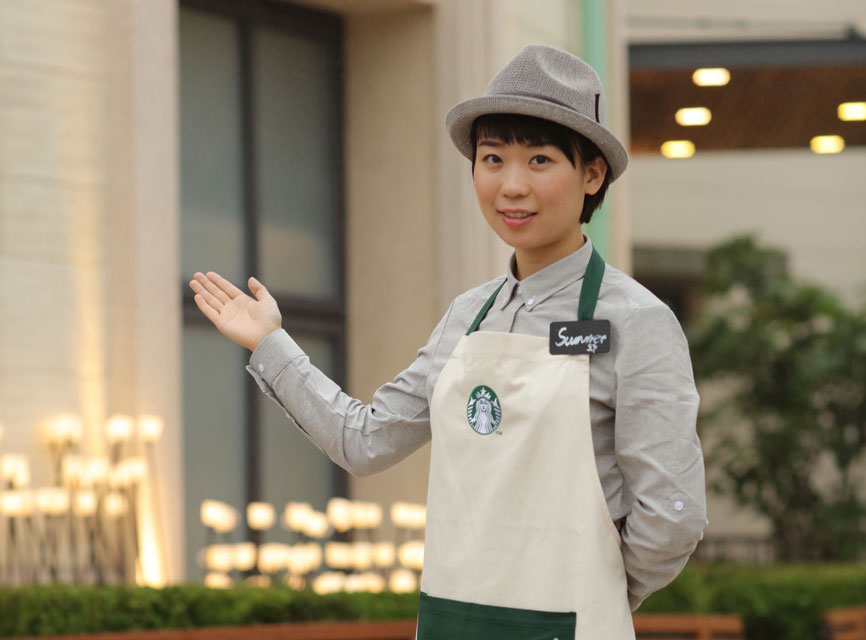 ---
About Starbucks
Since 1971, Starbucks Coffee Company has been committed to ethically sourcing and roasting high-quality arabica coffee. Today, with more than 23,000 stores around the globe, Starbucks is the premier roaster and retailer of specialty coffee in the world. Through our unwavering commitment to excellence and our guiding principles, we bring the unique Starbucks Experience to life for every customer through every cup. To share in the experience, please visit our stores or online at news.starbucks.com and starbucks.com.