Starbucks Partners Weixin to Launch Social Gifting Innovation in China
Starbucks Coffee Company (NASDAQ: SBUX) today announced the launch of "用星说" (Say it with Starbucks), a new social gifting feature on Weixin, in China.
SHANGHAI; 10 February 2017 – Starbucks Coffee Company (NASDAQ: SBUX) today announced the launch of "用星说" (Say it with Starbucks), a new social gifting feature on Weixin, in China. Co-created by Starbucks and Weixin, China's leading mobile social communications service, this pioneering online-to-offline social gifting innovation encourages everyday acts of kindness and appreciation among family and friends, by enabling users to instantly and conveniently gift a Starbucks beverage or digital gift card. Starbucks is the first retail brand to bring to life a locally-relevant social gifting experience in China. The launch today follows the strategic partnership announcement between Starbucks and Tencent in December 2016.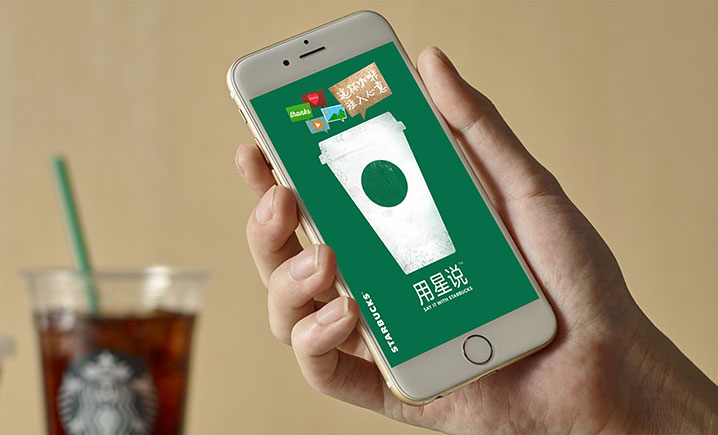 "Our new social gifting feature aims to deepen the shared moments of connection by allowing our customers to express their love, concern and gratitude, with the gift of Starbucks, to the people most important to them," said Belinda Wong, ceo, Starbucks China. "By leveraging the power and reach of Weixin, we want to encourage everyday simple acts of kindness to put a smile on someone's face at any time or place, while elevating the unique Starbucks Experience beyond our retail stores in China."
During the initial launch period, Weixin has opened a convenient access for 'Say it with Starbucks' users in its Weixin Wallet-function, demonstrating the significance of the strategic partnership to both companies. The Starbucks China Weixin official account continues to provide a fast permanent access to the social gifting feature.
Users will be able to select from a carefully curated selection of Starbucks-branded gifts and add a personalized message in the form of text, image or video to uplift the day of a loved one. Once a gift is received, it will be saved in the recipient's Weixin app and can be redeemed at any Starbucks store in Mainland China.
"This is the beginning of an exciting social gifting journey for Starbucks. During the trial phase two weeks ago, our partners (employees) and many Starbucks customers became the first in China to experience this innovation and have conveyed tens of thousands of gestures of love, gratitude and care to their friends and loved ones," added Molly Liu, vp, China Digital Ventures. "We are looking forward to inspire even more of our customers to show their love and appreciation through 'Say it with Starbucks'. Meanwhile, we will continue to enhance the social gifting experience to celebrate important festivals and holidays in China and the special moments in our customers' lives."
A sister product of WeChat, Weixin targets Chinese domestic users, and together, the platform has 846 million global monthly active users (as of the third quarter of 2016).
---
About Starbucks
Since 1971, Starbucks Coffee Company has been committed to ethically sourcing and roasting high-quality arabica coffee. Today, with more than 23,000 stores around the globe, Starbucks is the premier roaster and retailer of specialty coffee in the world. Through our unwavering commitment to excellence and our guiding principles, we bring the unique Starbucks Experience to life for every customer through every cup. To share in the experience, please visit our stores or online at news.starbucks.com and starbucks.com.